So Jack and I celebrated our birthdays. We don't actually know when Jack's birthday is, but it's very important to me that he have one and that we celebrate it. Freddie brought him home on October 23 and when I took him to the vet for the first time a few weeks later she guessed that he was about 5 months old. Here's a random funny story about that event. I took him by the vet at pet smart the day we found him and were still trying to figure out who he belonged too. He had some puppy teeth, so I knew he was still a baby. I figured they could look at his teeth and guess his age. But, you know what the girl grabbed for when I asked her if she could tell how old he was. His little balls! Seriously. She didn't even look at his teeth even though I mentioned that he had puppy teeth. She just reached up and copped a feel on that poor little fella. I can't remember what she guessed, but when I took him to the real vet, she looked in his mouth first thing. She said she could tell by the teeth he had lost. I think that vet tech was just trying to shock me....or she's got some weird fetish.
Anyway, the vet guessed about five months in November, but then randomly decided his birthday would be May 15, which made him about 6 months at that point. My husband suggested that I give him my birthday, May 27th, but then I quickly reminded him that I don't like to share. (Dear God, please don't make me one day go into labor on my birthday!) So, he then suggested a weekend that we would be at home so we could really celebrate with him. So we randomly chose June 14th.
We actually stole a little of his birthday weekend to paint our den and I was afraid we'd have to keep the poor guy kenneled all weekend, but he behaved so well. He really is maturing :) On his birthday, we took him out to the lake for a swim and gave him a few toys and an awesome birthday cookie from the K9 Doggie Bakery. I think the birthday boy enjoyed himself.
My mom came up and the three of us (Four including jack) celebrated with dinner and dessert. I was kind of bummed because I had to work a little bit. To be honest, I actually cried on my birthday. It's a long story, but I just had a few reminders of the fact that I'm not really satisfied with my job right now and my birthday was a crummy time to be reminded of that fact. We also celebrated with the obligatory mexican and margaritas with some local friends. I'm still working on my list of things I have to do before I turn 30, but I'd say my 29th year got off to a pretty good start.
Anywho here are a few pics from the celebrations.
My birthday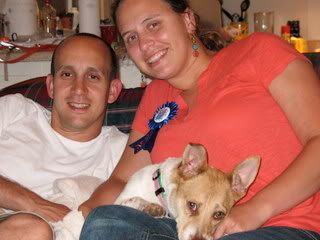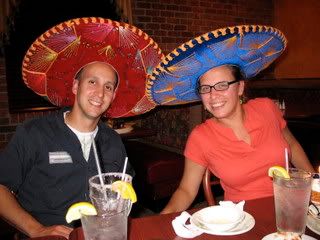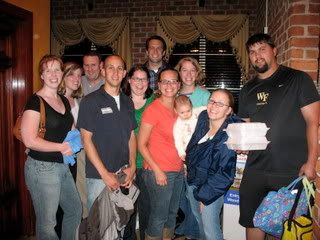 Jack's Birthday