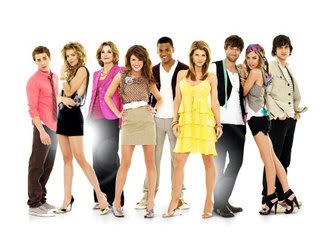 I didn't watch it last night and I've been avoiding blogs just in case everyone else did. We got home late and I knew that Freddie couldn't hang for the 2 hour premier, so I put it off today. You like that don't you??? Isn't it great how I'm trying to get my husband hooked?
Anyway, we're premiering it tonight courtesy of DVR and it's FABULOUS (did you say that while squealing, cause I did?)
So I'm going to give a bit of running commentary as it comes to me. Or maybe not. I'll tell you what we've loved so far and if more comes to me after I hit publish I'll add it. If it bombs from this point on. Well, take what you can get.
First of all---(basically) THE SAME THEME SONG!! Do you love it, Melissa and Lindsay?
I've already paused several times to make connections for Freddie.
Do you think Erin "Silver" is David Silver's daughter? And...David was the DJ and she's into obscure music. Okay, wait. She's Kelly's sister. I forgot about that late series marriage. Well, maybe Uncle David will still show up late season.
How about TV news anchor Zuckerman-Vasquez who looks like she's 30?! Love it! I wonder if "Ah"ndrea will show up. By the way, I hate people who fancify their names. There's a news anchor in Charlotte named Suz"ah"nne, however, her name used to be Suzanne.
I'm noticing that Kelly seems a little more like Val from What I Like About You than Kelly from West Beverly.
okay, a little more: Just saw the first preview for Shopaholic. yay!
Oh, Kelly has a baby. Now that's a twist. Still no Brenda sighting.
Update: Freddie just pointed out that Ethan is didn't need to ride with his grandmother which means two things: 1. He likes Annie and wants to see her. 2. He's a nice guy who hangs out with his grandma. Freddie, it actually means one more thing. 3. You're getting hooked!