We're finally home from NYC. Thanks to Skybus for allowing us to take a special tour of the Philadelphia as we battled purchasing last minute tickets, watched our connecting flight take off early, and experienced an airline closing down after stranding us in the Big Apple. But, it's all good because I got to touch a New Kid. Donnie was never my favorite, but I'll take what I can get. We shook hands. I wasn't bod enough to ask for a hug. Maybe I won't take what I can get because I just took a very close up shot of Danny instead of touching him...let me tell you that boy is tan and much shorter than I thought.

 I wanted to touch Jon. He was always my favorite. I had that shirt that had their pictures on it in separate squares and I thought it was kind of funny that Jon's picture was right on my
boob
heart. You could tell poor old Jon was having a hard time though. He had a body guar with him at all times and was the only kid who had to sneak out to the sound booth for a smoke in the rain. I'll still give him props though. Remember how he cried on Oprah? He has a hard time with crowds. I wasn't sure he still had idol status with me after that show. Don't get me wrong. I work with mental health patients. I understand what it is to live with extreme anxiety, but if there's one thing I learned in my chaplaincy training, I know that I've got my own issues, I don't need to take on anyone else's, but Jon, I wouldn't kick you out of the bed for eating cookies (my husband might, but he's currently busy with the furniture market, so feel free to stop by)


Here's a few happy snaps.

Making my signs the night before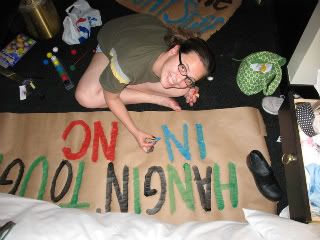 We had been up for 22 hours the day before and didn't hear our alarm clock for an hour, so we were a little late arriving. We were able to squeeze in, but not very close.
Here are the first glimpses I got.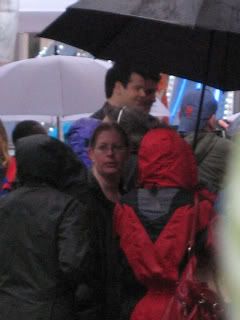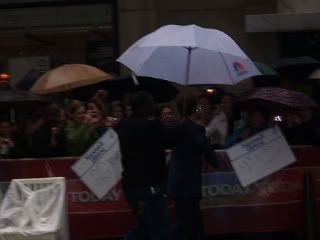 I guess my mom didn't get enough back in the day. She was a real sport hangin' tough with me in the rain.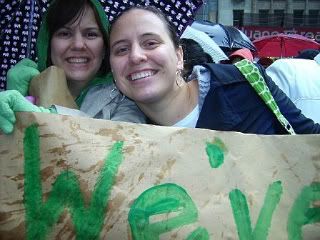 Then the boys made the rounds and I got a better look and a handshake from Donnie D (he's on the back up and drug free, so put the crack up)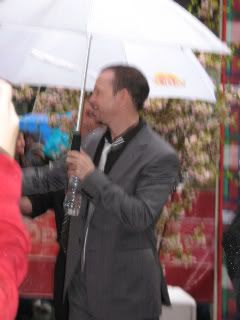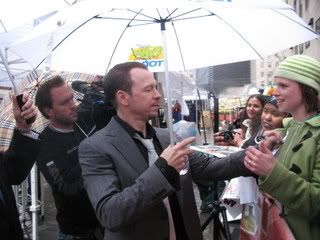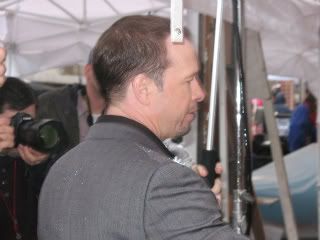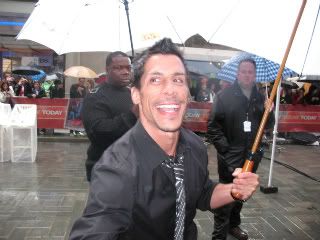 Those first girls thought they were obsessed because they got up early and got the good seats, but they didn't stick around long enough to find out that the boys were coming back at 9:30. When the crowd cleared, we got a great spot for the second interview...and lots of pictures. That's when you see me looking all crazy in the you tube video with my mouth open.