I love Christmas. I love the lights, I love the music, I love the decorations, I love the gifts, I love the whole thing. But, this year Christmas is proving to be a bit difficult. (Should I be surprised? That seems to be the theme of our first year of marriage.)
We finally got our tree up last week. We tried 3 times before we succeeded. First, they didn't have any lights. Then, no stands. Then, no actual trees. We finally settled on one, but it's actually too skinny. Bummer. We had an ornament shower last Christmas and got tons of cute ornaments that I saved until this year when we did our tree together, but they won't fit! I like my tree stuffed, but there really isn't any room. The tree is in the corner, so I'm not decorating it all of the way around. It's the first time I've seen a lot of them on a tree, so I don't want to hide any. Solution? Two trees. Yes, friends, we'll be putting up two trees this year. The other is sitting on our porch waiting for hubly to come home from Baltimore. Our main tree has white lights and much to Freddie's delight, the second tree will feature colored lights. everyone's happy.
Second problem, (well, not really number two, but I'm not going to explain the whole dilemma of deciding where to celebrate, so I'll just move on) Christmas Cards. I am way behind on this project. I actually bought a few last year, but now I want something better. I wanted to use a photo card with our wedding photo, but I don't like any of them. Actually, I like plenty from the photographer, but she wants to charge me $50 just for one image and that seems really high because I still have to print a million of them (and because the engagement pic was only $25). I won't go into more details, but she's driving me a little nuts. (I liked her a lot before the wedding, now I'm having second thoughts...good timing, right?)
I also purchased Christmas stamps early because last year I couldn't get my hands on any of the snowflakes, and had to settle for the ornaments that looked like Santa and Frosty in a casket. Anyway, am I the only one who CAN'T STAND the new Christmas stamps?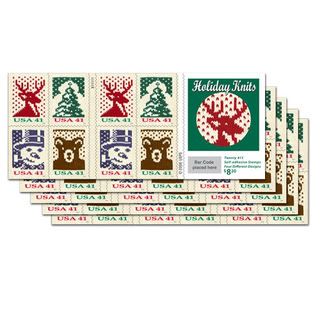 Holiday knits? Seriously, USPS, this is the best you could do? They're awful...especially the bear, I can't stand the bear! I'm thinking I'm going to have to put these in my Old Lady Christmas Box (that's not really want it's called, I think maybe Santa for Seniors, and my poor old lady wanted food, stationery and stamps). I may have to go religious this year, or maybe I'll really mix it up and get the Kwanzaa stamp.