Congratulations to our friend's George and Tracy and big sister Kayla who welcomed a new baby boy into the world on Tuesday. Aidan George came home from the hospital this morning. He was 10 pounds and 15 ounces! Thank goodness his mama had a c-section! She's a real trooper. She's already called to try to get us to come out to their lake house to celebrate the 4th. What a woman!
Here's the cute little fella...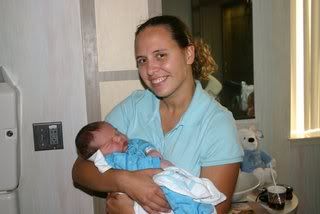 Big sister is still not so sure about him. She wouldn't quite give him a kiss, but she did enjoy pulling all of his clothes out of his bag and laying them on top of him. Here pop-pop is trying to get her to warm up to the little guy.