Do you have these in your town?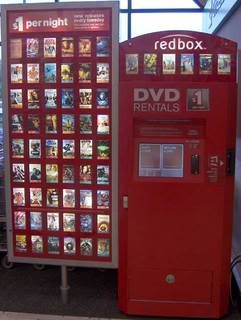 I love 'em. Apparently my furry friend loves them too. He's snatched two movies and blown them to smithereens. Apparently DVDs are quite tasty.
Anyway, I called the customer service line to find out if I could replace them rather than just max out the rental. I dialed 1-800-REDBOX3 and was told by the automated operator to dial another 1800 number, so I did.
It took me a minute to realize what I was hearing, but then I clued in to the sultry voice telling me, "big boy", that hot, sultry, horny girls were just waiting to talk to me! Oh, goodness. I just want to return PS, I Love You. It turns out that the number is actually an 866 number, not 800...just so you know.
By the way, if you want to check out the red box tonight, click the button on the right side of their screen, rent a dvd with a promo code, and type in DVDONME The first night will be free!