The wedding gifts have started rolling in. Well, perhaps I wouldn't say rolling, but we have received TWO presents. I was given warning about one. It seems my friend's wife was bored at work and did a little online registry shopping. She meant to have the gift sent to their home, so they could bring it to the wedding, but when her sale was complete, she realized it was headed to Charlotte-without a tag or wrapping, so they called ahead to tell me to keep my eyes out. But, the other one was a complete surprise!
The first gift was this Iced Tea Set.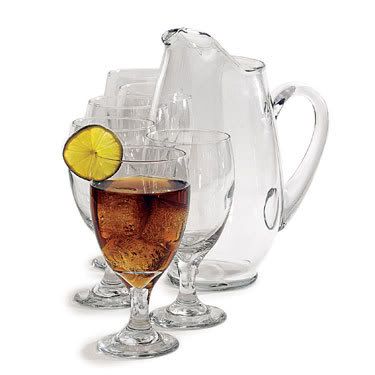 I got a little trigger happy with the pitchers in the registry process. I don't know what it is about them, but I love them...and goblets. So, we're registered for about three or four, or maybe five, different pitchers or sets of glasses, some are sets, some are not. I may have to do some exchanging, when all is said and done, or I may have to throw a big fat party!
This was the surprise!
My friends at work at Crock Pot Crazy! Seriously! They love 'em. I hear about the things they make in their crock pot all of the time. I recently got a "Fix It and Forget It" crock pot cook book and have tried making a few things, but what was most difficult about the whole process is that while you can leave the meal for several hours, when it needs to be off, it needs to be off, you can't just let it hang for another hour until you get home from work. So, we needed one with a timer-and now we have one! Hooray! I'll let you know how the country style ribs turn out when they're not an hour overcooked.
I have my first big shower on Saturday. I had an ornament shower in December, which was really fun, but this is just a general shower and I can wear a cute dress-perhaps the one I was planning to wear for Easter except it was FREEZING. The invite said regrets only, so we don't know exactly who is coming, but I've really been surprised by some of the folks who will have quite a drive to make it. It's going to be under the arbor at a restaurant just off my college's campus-where George Washington himself dined back in the day. I'm pumped!
PS-I've got to admit, it took a great act of strength not to peek at the registries while I was hunting for these pictures!