Well, they've actually been off for a couple of weeks now and we're starting to get them back too, but since I shared some pictures of myself (which were unfortunately much larger than I intended), I figured I'd go ahead and share these too. Yes, we were silly and took pictures of us putting our invitations in the mail. I have been planning to make a scrapbook of all of this wedding madness, but so far, I just have a bag of supplies and one page.
Here are some snaps of my fiance and his sister and I stuffing and stamping, a shot of the final product (oops I'd already changed into my jammies) and us dropping them in the mail. As soon as we did, we realized we'd put them in metered, but they're coming back, so it must have been alright!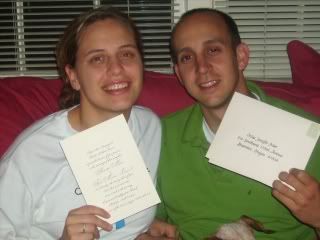 Perhaps now that I've actually shown my face, you all will feel more inclined to comment. Where is the love blogworld?