I'm supposed to have my bridal portraits this weekend. I've wanted to take them here for as long as I can imagine.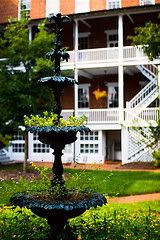 Because this is where I went to college and for years I watched brides posing outside my dorm window and dreamed of that day when I'd do the same. And because it's lovely.
Tomorrow, I'll be standing in those same spots, only I'll be in a mud puddle because it's supposed to RAIN all weekend. The forecast has changed this week from looking okay to looking gloomy, then gloomier, then 100% depressing. Now, I'm hoping it will change back. Keep your fingers crossed.
Either way I'll look like a princess tomorrow, or a freak. My hair appointment is at 9:30. My make up is at 11. We don't decide whether to move til Sunday until 1, so looks like I'm getting all dolled up no matter what!