I recently purchased these shorts for my dear spouse to be.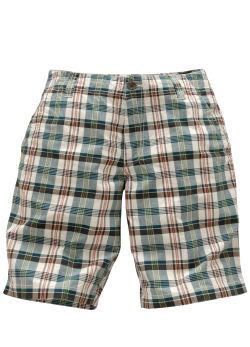 However, he refuses to wear them. They've been sitting at his house for two weeks now. I finally asked, "are you going to wear them or not."
The answer, no.
Yesterday, I was wearing a pair of long madras patchwork shorts from American Eagle.
"Do you like my shorts?", I asked.
He said, "Yeah, they're cute."
"See," I said, "you could wear your shorts. You like these."
He replied. "You're a girl. Those shorts are cute---for a girl!"
I tried to consult my roommate, Evelyn about this predicament. She thinks he's not preppy enough to wear those shorts. I maintain that I can
make
help him be preppy enough. At that moment from the other room you can hear the boy who was watching something crazy on TV shout,
"OH OH OH A Gorilla got out...mumble, mumble, mumble...It's an APE!"
And that's when I realized that this is a battle I will most definitely lose.