Our wedding is quickly approaching and with each weekend, we've had a lovely little pre-wedding event to escort us to the big day.
Our first shower was back in December, so it's not really an april shower, but I'm slack, so I'm telling about it now. It was an ornament shower and we received lots of lovely ornaments from friends and family to put on our new tree. We received so many ornaments, that I may actually have to get two trees.
I forgot to bring my camera along, so I just have a few shots. Here is one of the veggie tray...too cute for Christmas...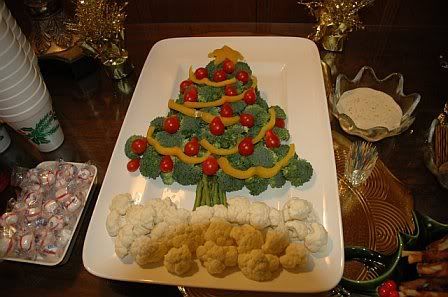 My first April shower was held at the tavern just off the campus of my alma mater. It was supposed to be held in the lovely arbor outside, but the threat of rain moved us inside. I was a little bummed, because it actually never rained, but we had a great time and got some pictures outside afterward.
I got some really cute individual group shots too, but didn't ask permision to post these folks on the web, so I better just stick with this...
The next weekend, my friends from High School threw us a little cook out in Charlotte. We had a lot of fun, eating, talking, and playing bocce, and they were kind to give us a lovely flower pot and some home improvement and gardening books from Home Depot.
The following weekend was crazy. I worked the Junior League rummage sale on Friday night, attended a friend's wedding on Saturday, worked an on-call shift at the hospital on Saturday night and then my beloved's family held a shower for us on Sunday. They were so sweet to work with my busy schedule.
This was his first shower, so he got lots of practice opening gifts in front of everyone (it's really a strange thing, don't you think? I want to be sure to give appropriate attention to the gift without boring everyone. The whole time I'm thinking, am I smiling enough, do I seem excited enough? Do they want me to pass it around? Do they want me to go on?--crazy.) He loved this shower because the gifts were more co-ed..under this pink paper, was a wet/dry shop vac. He opened it as soon as we got it home!
We actually have a couple of showers in May too. This weekend, our church friends in Charlotte are having a little shindig for us, and next weekend the eastern NC crowd is hosting an engagment gathering. fun fun fun