We had a weekend full of wedding activities. It was a wonderful way to actually get to spend time with our friends and family, which, in retrospect, was awesome because we didn't really see any of them at the actual wedding. Here are a few happy snaps from our bridesmaid luncheon hosted by my mom's sisters.
The lunch was held at the Duke Mansion in Charlotte. We hoped to have cocktails outside as the girls arrived, but it was a hot June day in Charlotte, so we just relaxed on the porch and in the dining room.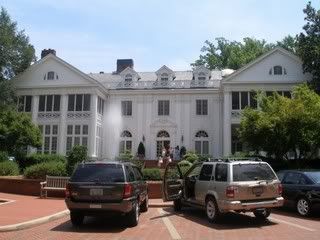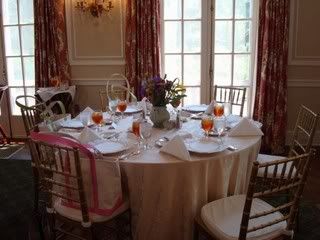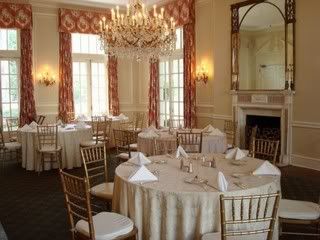 I went pretty traditional with our wedding cake, so we added a touch of whimsy for the lunch and played up the pink and green. Here are some shots of the cake and the girls pulling out their trinkets. I found a great vendor on ebay who let me choose particular trinkets so I gave my aunts suggestions of which to choose. I hate to see the married girl pull out the ring or even worse, the girl whose gone through a terrible break up or just can't seem to find the right guy, but still keeps constantly getting asked why she isn't married, so we left it out. I kept the pacifier though...it doesn't say when you're going to have the baby! We even included charms for the little girls, and put them on a different colored ribbon. My little cousin was excited to get a fairy and find out her wishes will come true! Unfortunately, we had a few casualties and lost a charm or two in the cake and a few girls didn't realize they were invited to pull too, but all in all, we had a good time.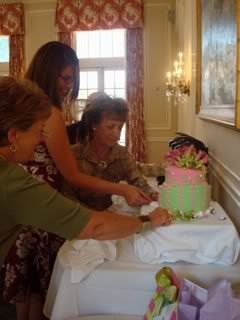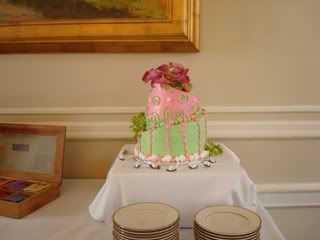 great job of making everything personal. They put little pictures of me from childhood out (do you see the sluts tea towel? Too funny, it means Southern Ladies Under Tremendous Stress!) Each aunt and my mom and my grandma also had a gift for me. My mom and aunts gave me my something old, new, borrowed, and blue. The old: A cameo that belonged to my great great aunt and then to my great great grandmother and has been passed down through my family. We sewed it to my bouquet wrap. New: A pair of crystal earrings from my mom to wear at the wedding. Borrowed: A handkerchief with cornflowers embroidered on it that belonged to my great grandmother. Blue: Light Blue panties with the words I Do stitched on! My grandmother also gave me a penny from the year of our wedding, 2007, of course, and from the year of my birth (except she didn't see that it actually said, 1969, oops, I didn't tell, of course)to wear in my shoe.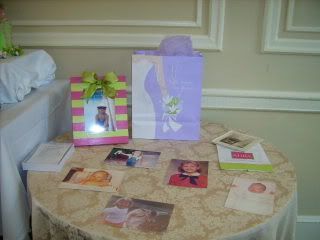 Oh, it's so fun to remember! More pics tomorrow.