Sorry. I didn't post the wedding or the detail pictures. Don't blame me. Blame Sarah. I know she has lots of good pictures and she said she'd send them a while ago, so I'll give her one more day. In the meantime. Here are the detail shots I promised.
The big picture was easy, but what I was really interested in were little details. I made my own ring bearer pillows using old family handkerchiefs and instead of putting dummy rings on them, I attached my grandfather's wedding band and a ring my great aunt had that had a collection of stones from many family rings. We had two ring bearers, so I used one for my family and one for Freddie's. Their pillow had his grandmother's wedding band. It was really important to me to make some connections to family members who were only there in spirit. I don't think I have a picture, but I'll post one if I can locate one.
We also featured a memory table at our reception where we included pictures of deceased friends and family. It was really great to pass by and see all of the smiling faces of loved ones we miss so much. (thanks to cbm for the extra inspiration on this one)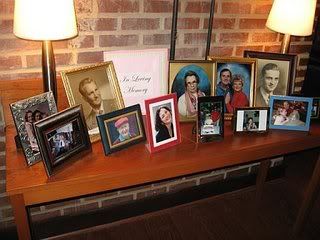 We also made welcome bags that our guests received when they arrived at their hotels. We were a bit sneaky on this one as we'd found the cutest printed bags online. They had an illustrated Charlotte skyline printed on them in pink and green. Just as we were about to splurge, we decided to copy them instead. We printed off our own welcome notes on card stock and tied them with different pink and green ribbons and filled them with local favorites. Southern delicacies like cheerwine, sundrop, grits and moon pies added some regional flare and we added a taste of home with Nascar Pez and Lance crackers.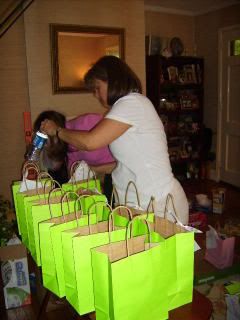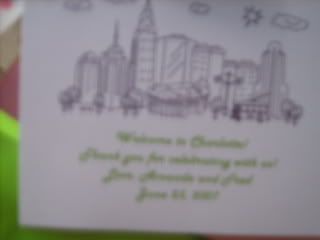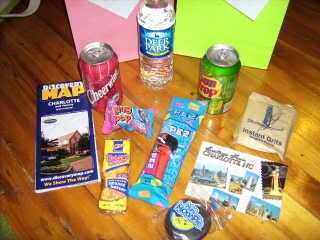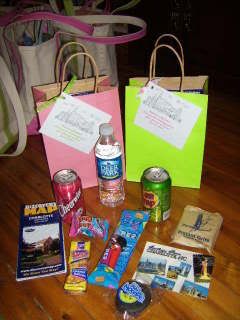 I debated about bridesmaid gifts forever and was going to use my aunt's retail connection to get some Vera Bradley bags, but alas, Vera is not accepting any new retailers. So, we went with the bean instead. I collected goodies to put inside for over a year (seriously, I bought these silk purses and pink and green polka dot jewelry rolls (too cute-I just realized I never got a picture!) at the furniture market in April of 06). I included flip flops for tired feet, initial key chains, note pads and water bottles, and cute little hair ties and kleenexes. The bags greeted the girls at the bridesmaid lunch, later that evening they got the jewelry rolls with their big day jewelry at the rehearsal dinner along with the other attendant gifts.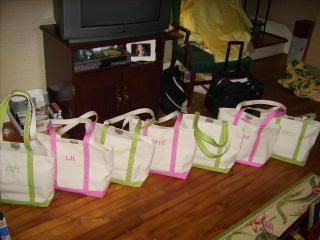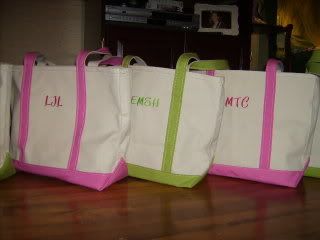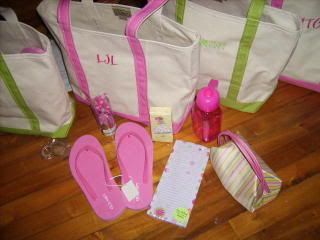 Coming from the land of Krispy Kreme, we wanted to send our guests off with a sweet treat. So, thanks to my lovely girlfriends, we stuffed 30 dozen cellophane bags with donuts and sealed them with a monogram sticker printed up for me by Karen Smallbone.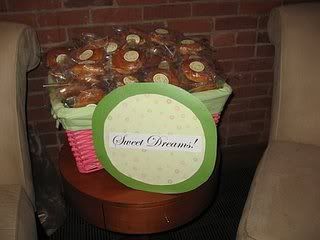 We had a few to spare, but they seemed to be a hit!