put your mittens on your kittens and away we go!!!
The day of the wedding was fairly calm. After my bridemaids and other attendants left to get ready for the day, I took a shower and waited for Yildiz, my make up girl to come and pimp my face. I am not good at doing make up, in fact, I hardly ever wear it, so Yildiz was a necessity. We really got to know each other over the 2 day bridal portrait ordeal, so I was excited to see her.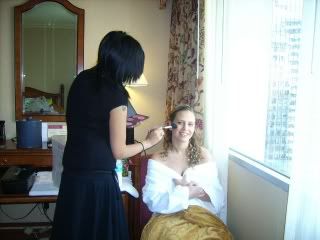 Yildiz is my friend from Mac and she's quite nice. She thinks I look European, but she's not quite sure where in Europe. She also has a very intricate tat around her boobs. (When she does your make up, that's pretty much the only place to look.) She is elegantly funky.
The hour before we had to leave for the service was a little crazy. We rushed to the reception site to put our candles out, we collected TONS of candles for these huge window spaces, and my mom made runners for the tables to add a splash of color, but since they weren't through a floral designer or rented through the site we had to do them ourselves, which was fine because it gave us a chance to see everything before everyone got there. My sister and my step mom helped us out a ton, because we forgot to unwrap all of the candles before the big day! I also put out photos of our deceased loved ones and realized at the last minute that I had neglected an important uncle, so in the 20 minutes before the trolley picked us up at the hotel, I had to frantically search through all of my mom's old photos for a shot of him...did I mention that I also accidentally dropped the entire box on the floor and mixed up the first 13 years of my life. Sorry, mom.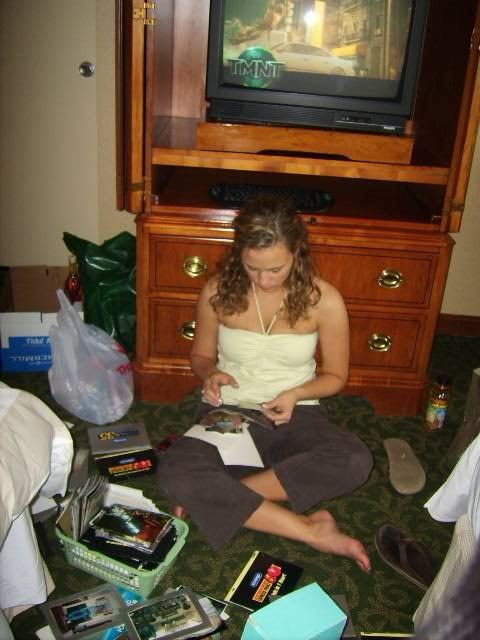 We used a trolley to transport the bridal party to the church and then to the reception. The trolley picked my mom and I up at the hotel (a few minutes that seemed like a lifetime late because of a broken water main in downtown charlotte. This is me riding to get the girls at Byron's posing with my dress, my veil, and my mom's dress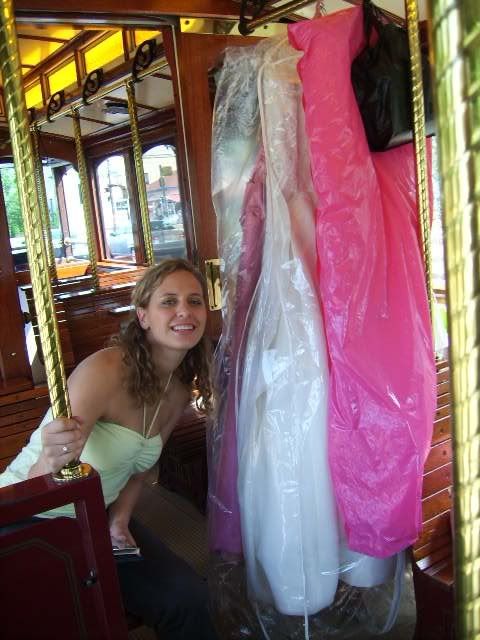 and once the girls joined us the nice trolley man took a happy snap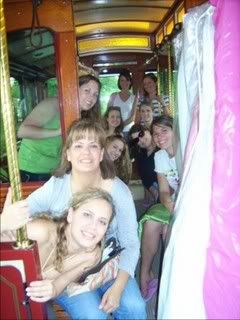 The boys rode the trolley too!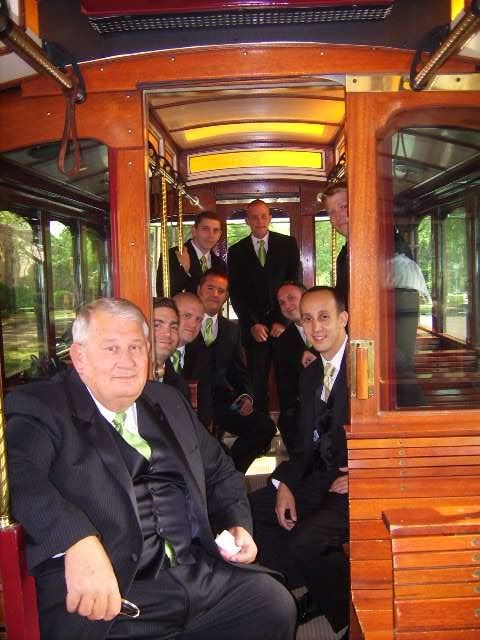 At the church, I sat around for about one second, we had a few lovely snacks there too, it's a wonder I fit in my dress, and then the hair guy arrived to tame my locks. Here is a shot of my hair. It's actually from the bridal portrait day (hence the sleepy face), but it gives you a closer look with and without the veil. There were also little pearl and crystal pins in the back to spice it up after I removed the the veils.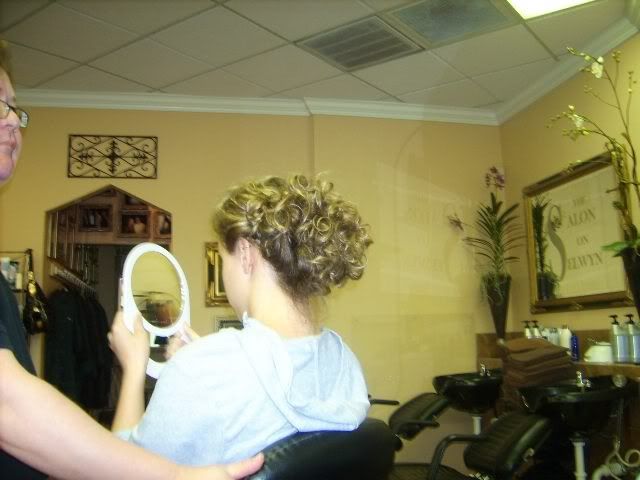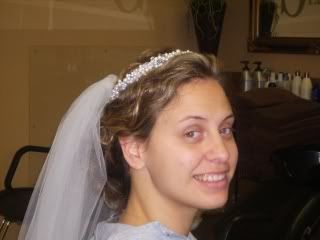 You can see my sweet friend Beth, but you can't tell that she's painting my toes. She loves to paint toes and she used to always do mine in grad school. I had mine done at a salon with my mom on Thursday, but Beth added a few white flowers.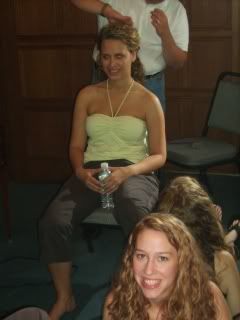 While I did that, the bridesmaids scuffed their shoes-this is a posed shot, my sister missed them in action down on their hands and knees-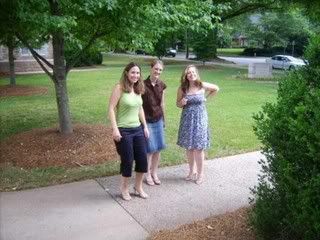 and another sewed the cameo I mentioned getting at my bridesmaid luncheon onto the sash of my bouquet. Here are the rest of my old new borrowed and blue too.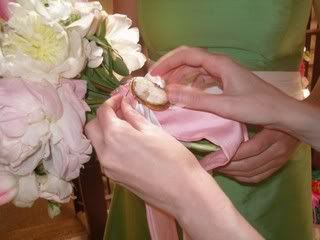 Then it was time to get dressed and put on the garter, by the way, I think this is a silly tradition, I like the tossing, but not so much the wearing and i actually kept the toss garter, I didn't see any need to keep the frilly one for myself.
I took a few photos with my flower girls
and we got rushed upstairs to get ready to enter. I didn't get a shot with my cute ring bearers, and they were a little cranky after the wedding, but my cousin did get one of three of the kids, these three are my cousins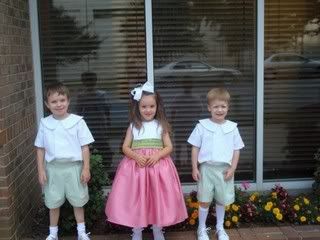 .
Next came the wedding, I don't have any photos of that without my photographer, but I actually remember the service. It was really important to me that we be able to remember the actual wedding and not rush in and out in fifteen minutes. Our service was an hour, and no we aren't Catholic. We served communion, which we loved because we got to see everyone come up one by one--that was really special. I also had time to calm down before we actually got married, so that was nice. The reception was a blur, but I remember the wedding in great detail and I'm so thankful.
We had an exit from the church after the wedding. I've been at a few weddings where they seemed to drag on and on, but I always want to stay for the exit, so I decided to have two--one from the church and one from the reception. The trolley came back to pick us up and our sweet friends had decorated it. Fred and I waited in the chapel for everyone to exit while the carillon bells rang and we really got to take in the moment. (We also practiced our first dance!) We rushed out to a huge crowd blowing bubbles.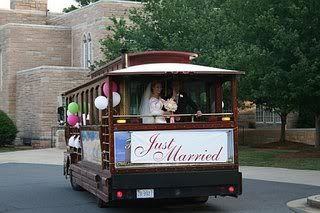 Here are a few shots from around our reception including our cake, our centerpieces, my portrait, our candles, the bridesmaids flowers-I didn't want them to have to hold them all night, so we found a space for them by the bar-etc.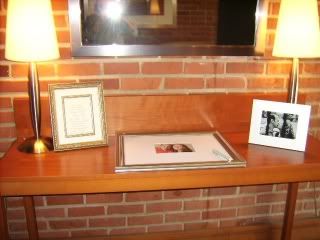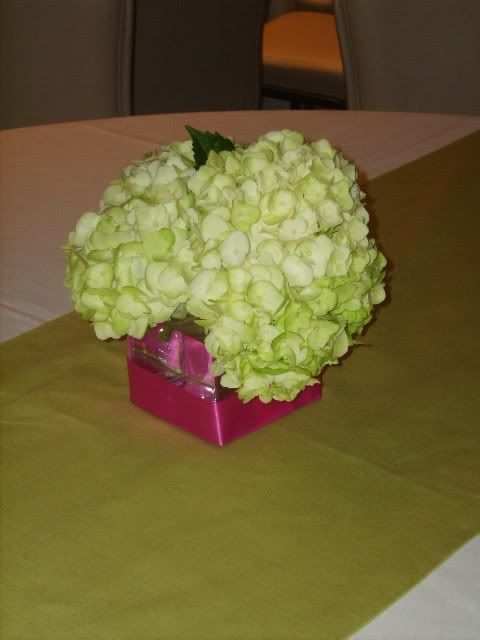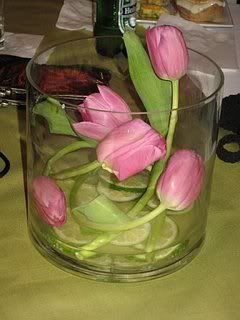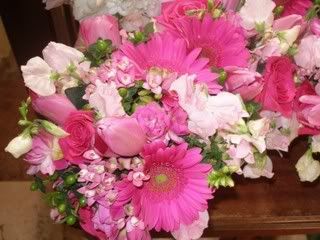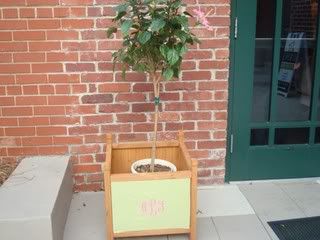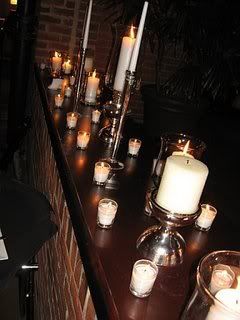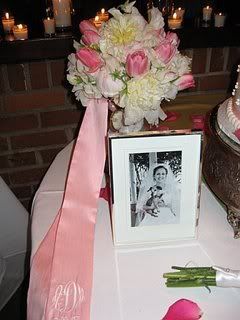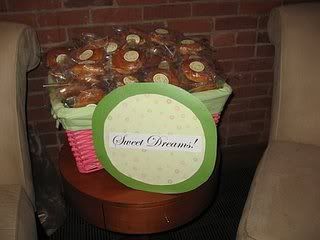 When we arrived at the reception site and gathered to enter, we realized Fred and I had both forgotten the cd to give to the dj! We decided to go ahead and enter, make a little twirl for the crowd on the dance floor-so they could take a pic, and then wait on the cd. Fortunately, a bridesmaid's father ran to get it out of my car player for me. I only wore my short veil at the reception. I was surprised that I actually chose a cathedral length veil, which I loved, and I wore the blusher-my mom flipped it at the end of the aisle as a way of giving her blessing-I walked down the aisle by myself. After the wedding, I flipped the blusher and wore it for all of the "big picture" events-cake, toast, dance, etc. then took it off. Here is our big entrance. I love this shot of my sister and Freddie's dad because she's so tall (and I made all of the girls wear the same shoes (I know, BRIDEZILLA, but I paid for them), which weren't exactly short) and he is so, well, not tall.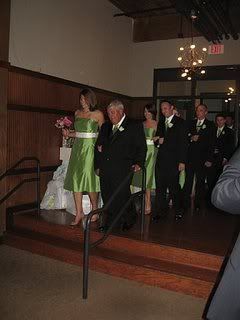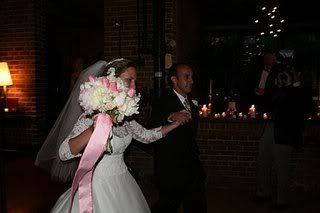 and here are the newlyweds on the dance floor (it looks like I'm whispering sweet nothings, but I think I just got embarrassed, so I pretended to say something!)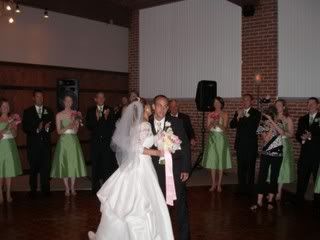 A few minutes, and a brief snack and cocktail later, our song had arrived and we were ready to dance. We actually took one dance lesson, so we had a few moves. We danced the foxtrot and learned a few turns and a dip. I think we did pretty well, though Fred had a bit of stage fright. Our first dance was to a song called "I'll Be Loving You Always" and it was my grandparents' song. My grandfather was listening to it on the radio when he wrote the letter to propose to her while he was in the Korean war. We dedicated it to her. She and my grandpa would have had their 62nd anniversary two days after our wedding.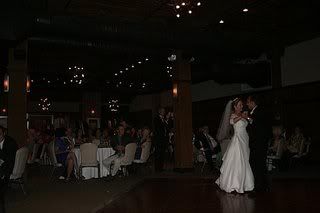 Here are a few shots from around the reception, including the bouquet and garter, and the happy couple with the mother of the bride. We were so thankful to have so many friends and family there with us on our special day.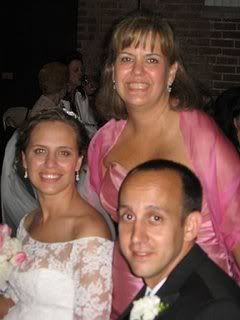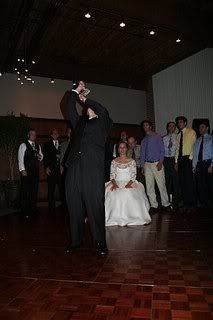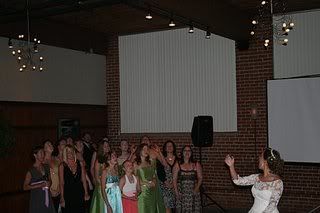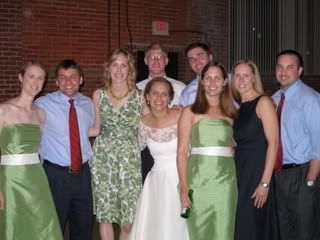 All of my close friends from highschool came, I look especially short in this shot-I think the shoes had definitely come off at this point. At the end of the night, we danced our final dance to At Last, a song we've always loved, and I got teary. I looked at my grandma, so thankful that she was able to come, the last year has been a rough one for her, and I wished the moment could go on forever. I was really grateful to have the Sunday brunch to look forward to. We ran out under a stream of bubbles, rose petals, and silver streamers, surprised at the large crowd that had hung around. I don't have any good shots because it was so dark and apparently we ran fast-aren't you suppposed to run?! After a fake out exit, Freddie had forgotten about getting us a ride back, we snuck around to the side entrance and got a caterer to get my mom, so she could grab my bag and my grandma so I could say goodbye, and we called a friend to take us home. It was a great night, but it went by so quickly-I'm sure you're reading this post and wondering how that could be possible!